Heavy Monsoon Rains and Floods Kill Hundreds in Sri Lanka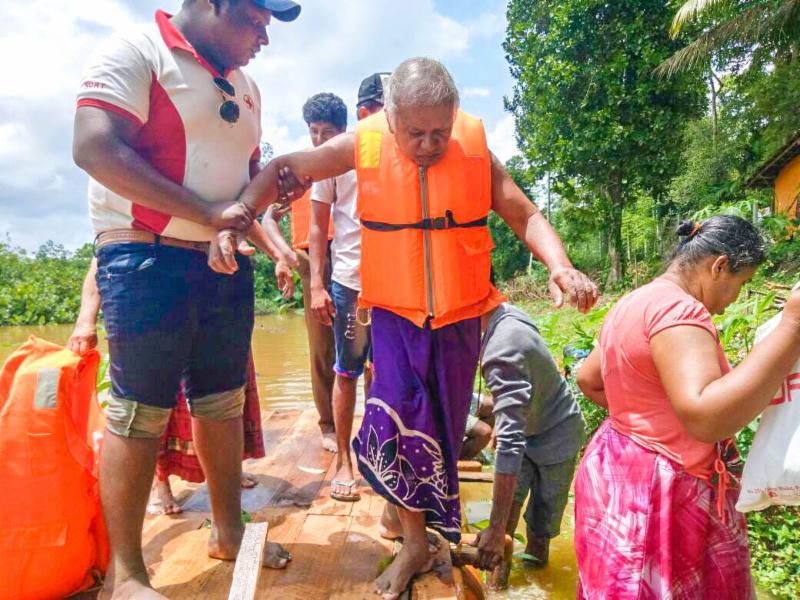 Relief efforts by the Sri Lanka Red Cross continue after torrential monsoon floods and landslides. (Photo courtesy of the
IFRC Asia Pacific)
The advent of the monsoon season hit Sri Lanka with devastating force. Two months of drought before the rainy season has intensified the effects of the pounding downpours. Death tolls are still rising, but so far 208 are dead. 40 among them are children. Authorities told residents to flee, but many found that completely impossible. The town of Matara was especially hard hit. Authorities are still trying to rescue those still stranded and warn of possible crocodile attacks. One woman rescued exclaimed, "I have never seen such floods though I have spent my entire life in Matara. We have lost all our belongings....I am still happy we escaped the floods and even the crocodiles."
It is the worst flooding in 14 years. More than half a million people have been affected. Relief is pouring in from India and other countries as well as the Sri Lanka Red Cross, the first to give aid and help with search and rescue missions. Some houses and shops remain submerged in 10-30 feet of water. One survivor lamented, "A bigger shock awaits us when the waters recede and we return home. We have lost all our possessions." Foreign Minister Karunanayake announced, "We have a problem of limited resources to cope with the situation. Hence we have made many appeals."
The nation of Sri Lanka is number 45 on the 2017 Open Doors World Watch List of the worst persecutors of Christians in the world. Window International Network partners pray for Sri Lanka on Day 15 in accordance with the Praying Through the Window 9: Global Terrorism and World Religions prayer calendar.
Good coordination of rescue efforts and resources to work smoothly and get help to the most needy in the shortest amount of time (The Bible,

Psalm 72:12

).
Christian aid agencies to join the relief effort and be successful in not only the physical rescue and aid to people, but also in the spiritual rescue of many lost souls (The Bible,

1 John 3:17-18

).
Sri Lanka's Christian Believers will show the love and compassion of Christ to all Sri Lankans in need (The Bible,

Colossians 3:12

).
Click Here
to join us on our Prayer 4 Sri Lanka Facebook Page.
Do you find these prayer alerts helpful?
Please consider a contribution today.
Thank you!